Preventive in San Luis Obispo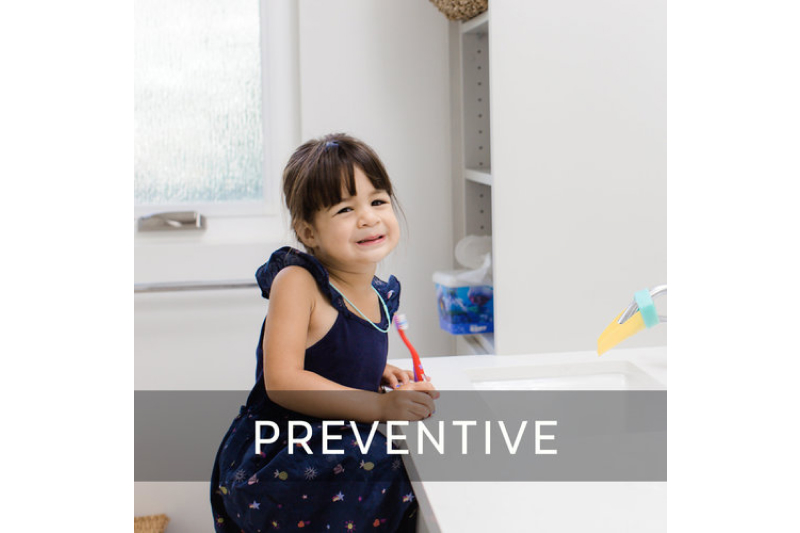 At SLO Pediatric Dental, we practice preventive dentistry, which means we take a forward-looking approach to preventing common problems like tooth decay. With regular pediatric dental visits and parental involvement in daily oral healthcare, unnecessary tooth pain can often be avoided.
WHY IS PREVENTIVE DENTISTRY IMPORTANT?
Preventive dentistry means a healthy smile for your child. Children with healthy mouths chew more easily and gain more nutrients from the foods they eat. They learn to speak more quickly and clearly. They have a better chance of general health, because disease in the mouth can endanger the rest of the body. A healthy mouth is more attractive, giving children confidence in their appearance. Finally, preventive dentistry means less extensive and less expensive treatment for your child.
HOW DO PEDIATRIC DENTISTS HELP PREVENT DENTAL PROBLEMS?
Tooth cleaning, polishing, and fluoride treatments are all part of your child's prevention program. However, there is much more. For example: pediatric dentists can apply sealants to protect your child from tooth decay, help you select a mouth guard to prevent sports injuries to the face and teeth, and provide early diagnosis and care of orthodontic problems. Pediatric dentists are uniquely trained to develop a combination of office and home preventive care to ensure your child keeps a happy, healthy smile.
COMMON PEDIATRIC PREVENTIVE DENTISTRY:
Regular and General Dental Visits
Proper Nutrition and Dietary Habits
Daily Flossing & Brushing
Dental Sealants
Custom Athletic Mouthguards
Oral Health Education
Preventing Baby Bottle Decay
Guidance on Primary Tooth Eruption
WHY PRIMARY TEETH ARE IMPORTANT
Primary teeth are important for several reasons. Foremost, healthy teeth allow a child to eat and maintain good nutrition. Healthy teeth allow for clear pronunciation and speech habits. The self-image that healthy teeth give a child is immeasurable. Primary teeth also guide eruption of the permanent teeth. Losing primary teeth early due to cavities can sometimes cause very crowded permanent teeth.

At SLO Pediatric Dental, we consider our patients part of our family! Please Call 805-544-8111 today to schedule your child's appointment.